Barbara H. Mercer, Master of Fine Arts
Owner & Master Framer
Barbara H. Mercer, owner of EDMONDS FRAME DESIGN & Atelier, received her Master of Fine Arts degree from the University of California at Berkeley in 1983. She studied painting and printmaking with well-known artist professors such as Joan Brown , Elmer Bischoff and her mentor, David Simpson, who guided Barbara through her graduate studies.
After completing her studies at the University of California, Barbara wanted to explore professional careers that tied in to her fine art education. At a downtown San Francisco art gallery she was exposed to the business side in the art world, gained experience in customer service towards clients and artists, and gave sales presentations with art portfolios at corporations.
Barbara grew up in Germany in a family of professional artists. From early on she was exposed to the fine arts, design, architecture, music and dance. One of her greatest enjoyments was the discovery of nature in its ever-changing beauty, its colors, its sounds, its fragrances.
These childhood experiences are part of Barbara's sensibility in her profession as an artist and picture framer. It is reflected in her utmost care of her clients' treasures, assuring for framed pieces that almost always result in an enthusiastic response.
The opportunity arose for Barbara to study picture framing under the tutelage of Master Framer PAUL FREDERICK, the personal picture framer of renowned photographer, ANSEL ADAMS. Paul Frederick belonged to the first small group of picture framers in California who explored, researched and helped to develop materials in picture framing that would preserve art works into the future.
This group of framers was the driving force for PPFA, a Picture Framing Association that promoted new standards , research and education for individual picture framers nationwide. Barbara feels very fortunate for the experience to study with Paul Frederick, Guru of the newly advanced methods for preservation framing.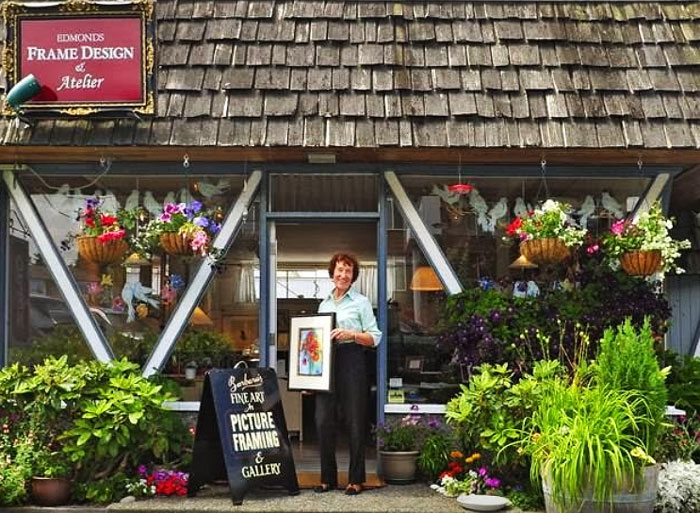 Setting Up Shop in Edmonds
While Barbara continued to learn and work for various frame shops in the San Francisco Bay Area, she always kept her mentor, Paul Frederick in mind. She was well aware that most frame shop owners were little inclined to move ahead with conservation framing during the 1980's.
In the Fall of 1990 Barbara moved to Edmonds, WA, and opened her own picture framing business, EDMONDS FRAME DESIGN.
It has been a privilege ever since for Barbara to create outstanding framed pieces for her customers, and contribute to their happiness.